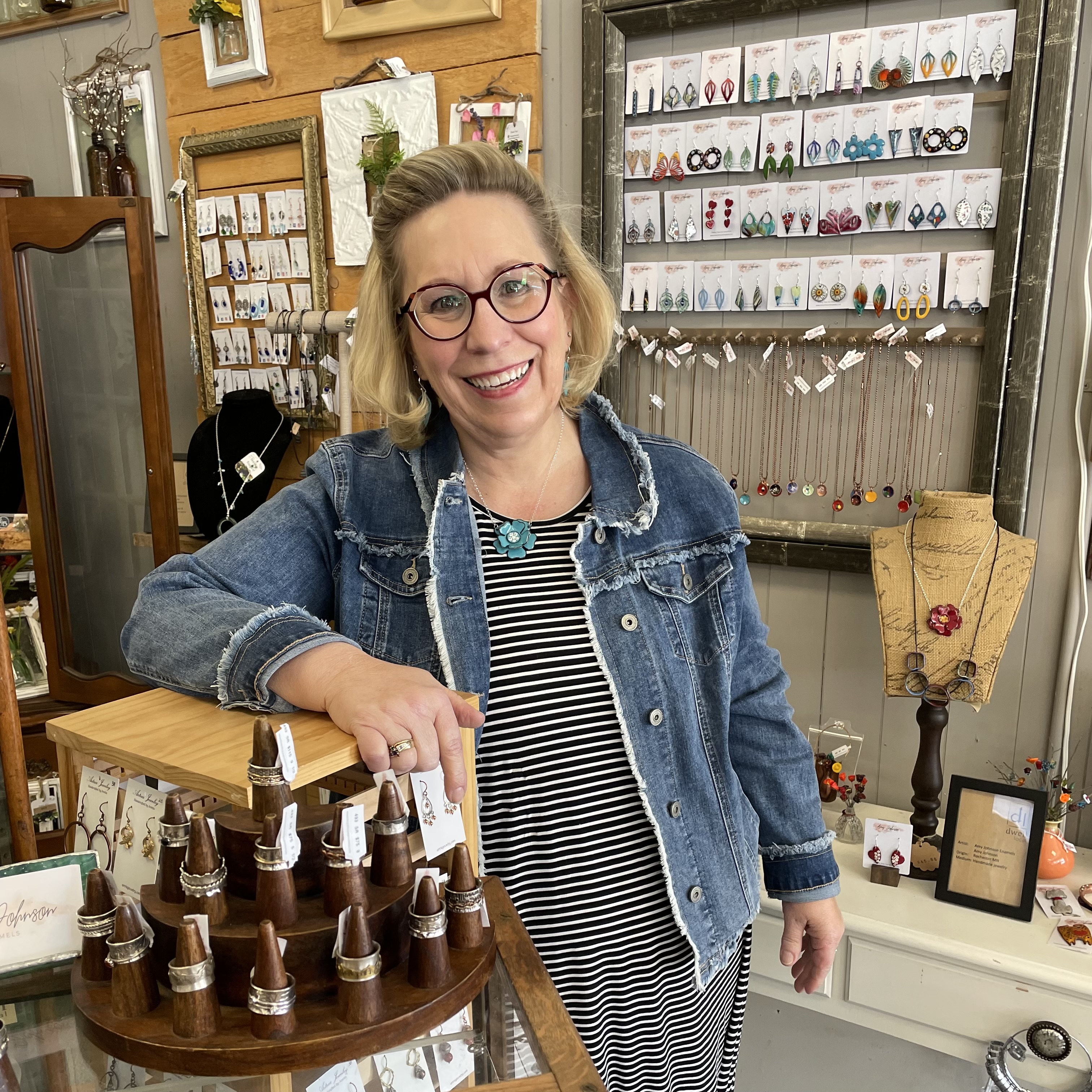 I am an enamel artist from Rochester, Minnesota. I blend together metal, fire and glass to give life and color to my jewelry. I also meld different metals to fashion beautiful sterling silver spinner rings, copper bracelets, necklaces, and earrings; each piece has a personality of its own. Some of my work is elegant and graceful, while other pieces resemble a whirlwind of color and light. You can follow my work on Facebook  and Instagram.
My journey with enamel started when I took a class in Bloomington, MN back in 2016. At that point, I was making jewelry with a variety of different metals and wanted to explore more techniques to breathe some life in to my jewelry.  At the time, I didn't know anything about enamel.
I didn't even know that I would be working with glass.   It took one class in enameling and I was hooked immediately.  The vibrant color palette was beautiful!  The process of taking powdered glass in an array of colors, heating it with a torch or kiln to make a jewel-like surface, was magical!  This class was like heaven on earth!  The instructor was Jean Vanbrederode of Mechanicsburg, Pennsylvania, a well-known master enamel artist.  Jean, a former English teacher, taught this class with amazing clarity.   She would first explain the steps we would be doing through a PowerPoint.  Then we would immediately start working on the process with her by our side.  My project was working on was an enameled book pendant.  I learned how to bind pages for the book pendant, cut copper shapes with a jewelers saw, apply enamel an
d torch fire to a glassy surface, and then assemble the different pieces.   That was my first of many more projects. I have been in touch with Jean ever since that first day of enameling.  I text her on a regular basis asking questions.  We both share with each other our projects we are working on.   Her shop is my one-stop-shop for enamels and enameling supplies.  Jean also has a major East Coast learning destination studio in her home called Charmed I'm Sure Studio which features some of the most popular national and international instructors of jewelry making, enameling and mixed media.  Jean has been a great mentor and friend throughout my journey.